Austin is the fastest-growing big city in the country, with the metro population growing by more than 510,000 people from 2010 to 2019. It's not hard to see why. With a comparatively lower cost of living compared to coastal cities while still offering a high quality of life, many have chosen to invest in Austin area real estate to reap the many benefits of the area. Residents enjoy a robust dining and shopping scene, a plethora of world-class music and film festivals, and impressive educational opportunities, but it is the incredible outdoor experiences that round out life here.
If you like a physical challenge, are looking for fun, or just want to relax and enjoy time with your friends and family, Austin is home to a seemingly endless amount of outdoor activities. Let's take a look at some of our favorites.
Bouldering and More in McKinney Falls
Bouldering is free climbing without using harnesses or ropes and requires strong mental and physical skills. These challenging adventures are a great way to test one's fortitude, and for owners of Austin properties who love climbing, limestone bouldering at McKinney Falls State Park along Onion Creek is a fitting choice.
Routes that athletes climb are called "problems," and a large concentration of some of the hardest boulder problems in Austin are found at this state park. The difficulty levels featured at this park are more suitable for experienced, strong climbers; this site isn't recommended for beginners.
For those seeking a more relaxed day in nature, there are nearly nine miles of trails for biking or hiking, or you can check out the swimming or fishing in Williamson or Onion creeks. McKinney Falls also has plenty of picnic sites and 81 campsites. There are six beautifully remodeled cabins for rent as well.
Disc Golf, Anyone?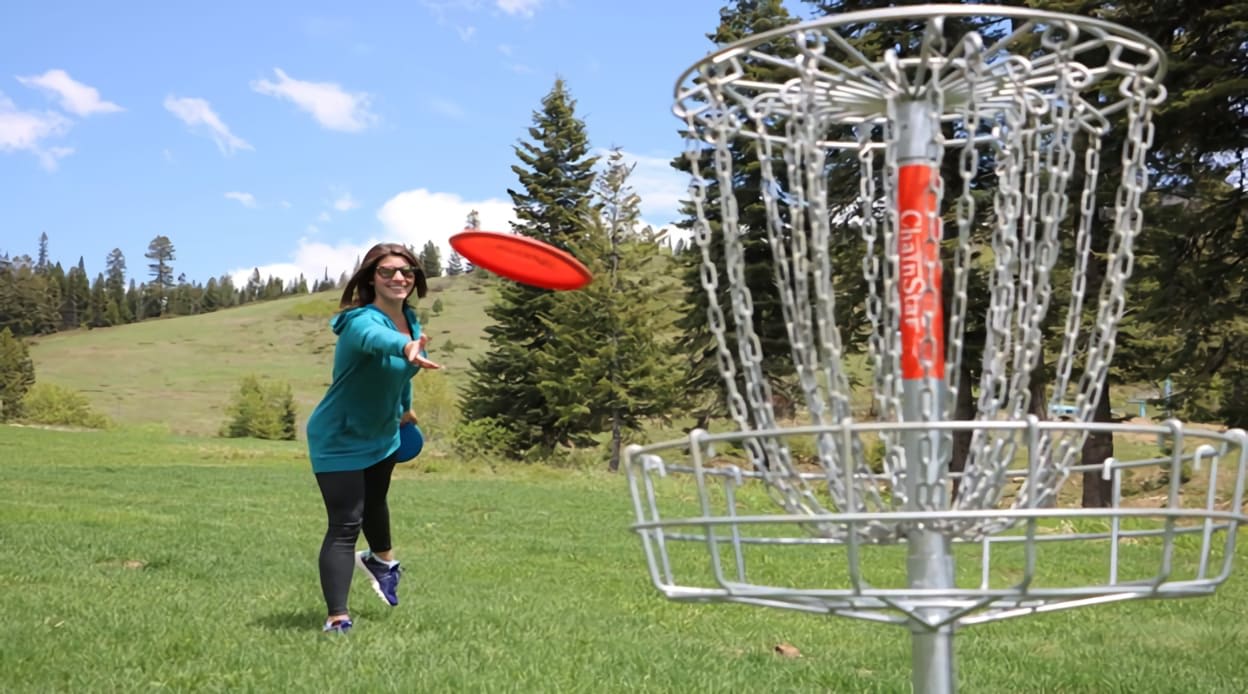 Credit: Brundage Mountain
FROLF is like golf, but a Frisbee® or flying disc is used instead of balls and clubs. The sport has been around since the '70s and, like golf, the object of the game is to finish each of the holes in as few strokes as possible. In this game, however, holes are completed by sinking the Frisbee® into a metal basket "target" in the fewest throws possible. As in golf, the terrain, trees, and other natural obstacles make for a challenging, frustrating, or sometimes humorous game, depending upon the skill of the players. Quite often you can find free disc golf courses in public parks, but more and more pay-to-play courses with maintained facilities are becoming the norm.
Pease Park is known among those who own Austin area real estate as the original and most legendary disc golf course in Austin. It's a laid-back, fun, and classic course. At Searight Park and Roy G. Guerrero Park, players find the courses to be exciting and challenging, while Circle C Ranch Park's course is hilly and is considered to be a higher level of difficulty. No matter the location, each course features picturesque views of the local landscape and its own distinct Austin flavor.
Canoe, Kayak, and Sup Rentals at Rowing Dock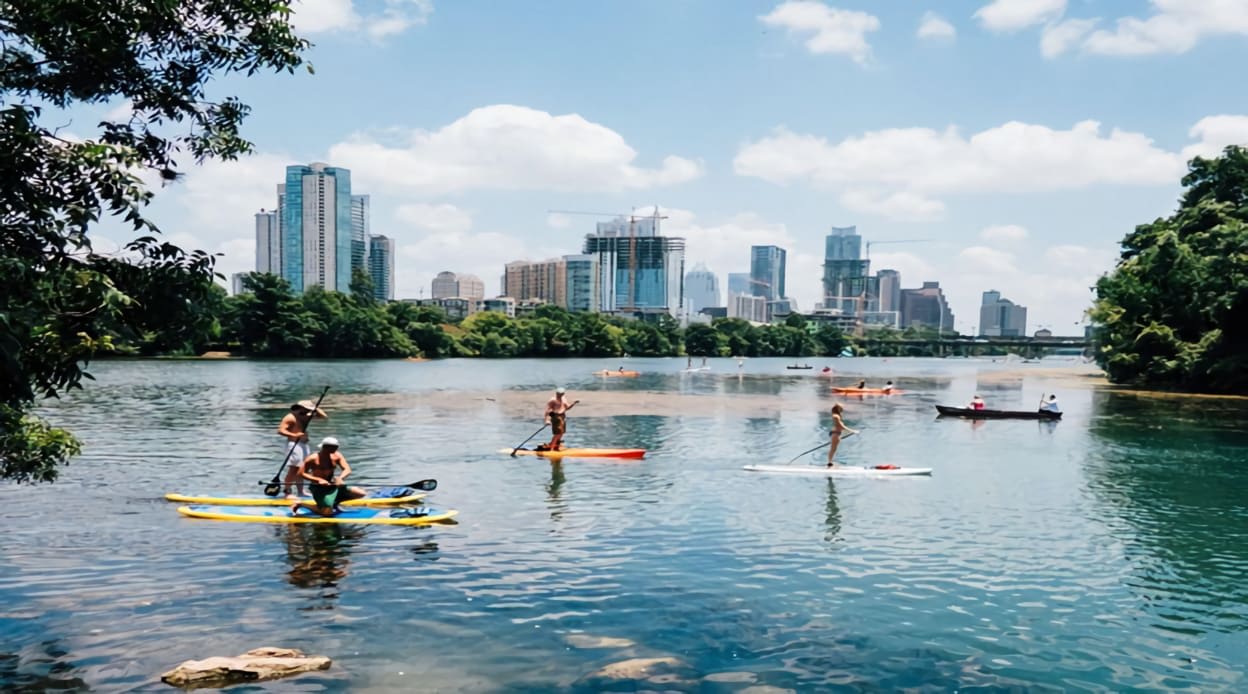 Indulge in the peaceful tranquility and fun at Lady Bird Lake. Canoeing is a popular pastime here, with many individuals or small group options, or one can opt for standup paddleboards (SUPs). A standup paddleboard is similar in shape to a surfboard; you stand on it and use a hand-held (long) paddle to propel yourself through the water. There is a large selection of SUPs for rent, so people of all ages, heights, and sizes have plenty of choices.
Kayakers are privileged with a wide range of options at their disposal as well. There are single and double, sit-on-top, sit-inside, and pedal options - a kayak where you sit in a position similar to a recumbent bicycle and propel yourself through the water with your legs instead of your arms; delivering a fun and fast ride.
College Day is held each Wednesday, and those with a valid student ID receive 50% off their rental. Yappy Hour is held each Tuesday, where pet owners can bring their pets down and get a second hour for free during the non-algae season. Walk-ups, except for the guided tours, are always welcome.
Austin Party Cruises
One of the most enjoyable ways to enjoy the fresh air in Austin is to be out on the lake, and a party cruise is ideal to create unforgettable memories. For nearly 25 years Austin Party Cruises have arranged countless day trips for any kind of event you can think of, casual or formal. Their upscale cruise vessel is comfortable, clean, air-conditioned, and located on Lake Austin. While cruising you'll see many popular city landmarks and sights including the 360 bridge, Austin Country Club, incredible Austin properties, Oyster Landing's Hula Hut, and more.
Luxury Home Tours
If you appreciate architecture and touring luxury properties, you'll love home tours of Austin area real estate, including the annual AIA (Austin Chapter of the American Institute of Architects) tours. Although some of these tours are now held online due to the pandemic, a few in-person tours are still being held each year. The key part of the tour is exploring the home interiors, but you'll be able to enjoy the outside architecture of each residence, the gardens, and the neighborhood when touring these impressive Austin properties.
Bat-Watching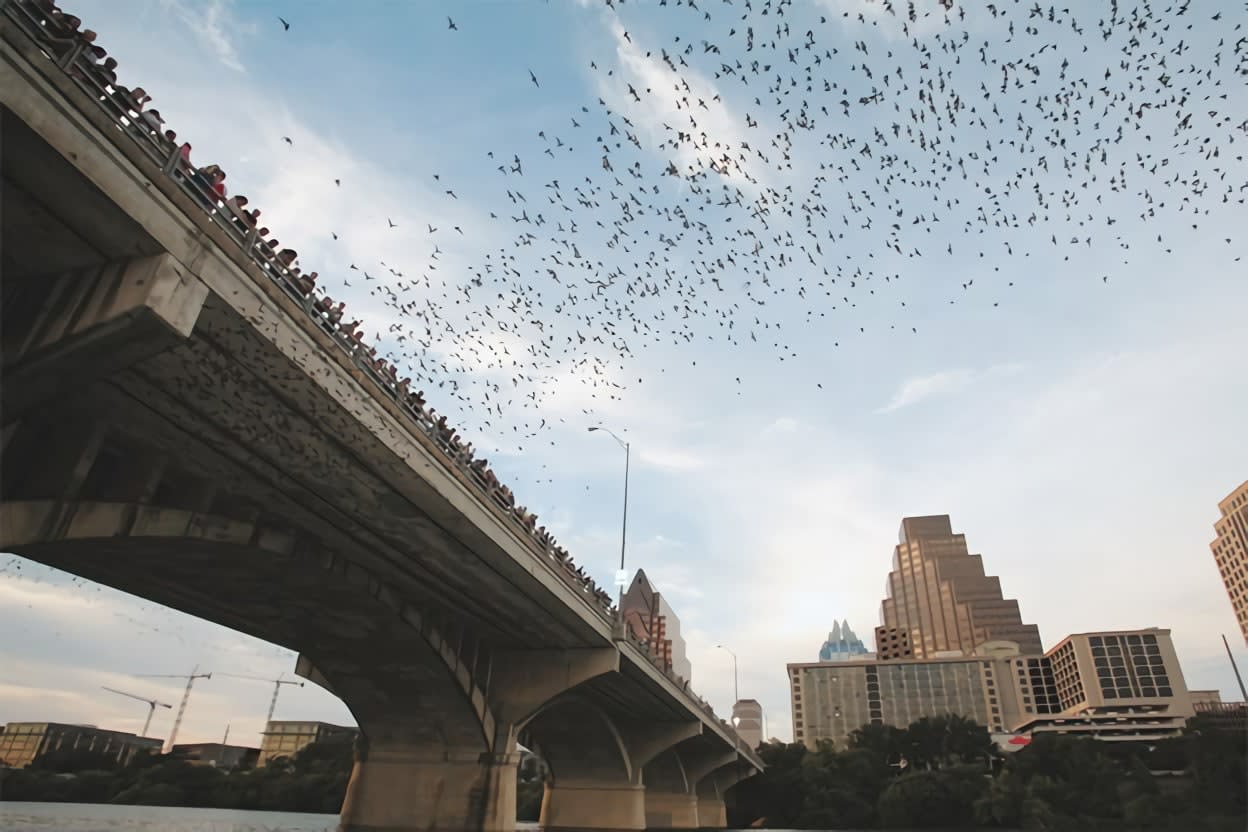 Credit: Austin City Guide
Bat-watching may sound like an unusual outdoor experience, but it's actually a fascinating and popular attraction. From the end of March through early October, you'll find up to 1.5 million bats flying through the Austin night sky. In 1980, there was a renovation of the Congress Ave Bridge, and migrating Mexican free-tailed bats were attracted to the underside "bat cave" of the structure as they found it to be a perfect nesting spot. In the evening, you can be positioned on the water, the bridge, or on other Austin properties to see the incredible swarms of bats emerge from their "bat cave" after sunset.
While we've listed several favorite outdoor activities in this city, Austin offers residents and visitors alike an incredible amount to explore and enjoy. With Oracle and Tesla announcing they're moving their headquarters from California to Austin and Apple opening a brand new $1 billion campus in the area, Austin area real estate has grown to become one of the most popular luxury housing markets in the US.
Now is the time for buyers to make an investment in Austin properties. If you've made the decision to move ahead in your search for Austin area real estate, reach out to Austin Fine for expert guidance.